From the Desk of Farit Ismeth
Dear Friends,

Since starting the website www.ePetua.com, we have got many queries from friends on how do you start a blog and can you really make money from your blog.

There's just one out-of-the-ordinary thing about us: we're ordinary guys who've stumbled upon this simple system for making money online. Our system is so simple, in fact, that ANYONE can do it and it only takes a few hours a week! This isn't rocket science—it's something everyone can do!

Our system is safe, it's simple, it's legal and it's remarkably powerful. And yes, YOU can easily learn it too—it's not as complicated as you think.
The internet offers many money making opportunities. The internet is a revolution that has changed how many things used to work from the traditional perspective. It is an undeniable fact that there are more and more millionaires created nowadays with the help of the internet.
Amazing But True:
Advertisers Will Send You Checks In your Mail Just For Using Their Program!

You Can Create Killer Contents That Draw Hundreds or Thousands Of Hits A Day To Your Site Using Simple Tools!
When users Click On The Ads, You Get the Checks—It's That Easy!
By now you might be wondering, "Yeah, sure, it sounds good…but if this system of yours is such a money-maker, why are you taking time out from it to share this information with us? Why aren't you out there using your system to keep on making money?"

That's a perfectly valid question!

For us, it's that we've always wanted to teach. The deep-down satisfaction we get from teaching others touches our hearts in a truly special way. And, quite honestly, the internet is really a blue ocean. Even if you learnt what we are doing and you go out and make a lot of money with it(or even much more money than us), it will not make us any poorer. In fact, we would be really really happy to know that you can benefit from our sharing. If you do make money from our sharing, we would be very delighted if you could drop us a note about how this ebook has helped you so that we can include you as our future testimonial or be featured in our future editions of this ebook. We treasure thank-you notes and letters from our successful friends and subscribers. It just make us smile.

And now, it's time for you to start taking action and to create your own reality of SUCCESS TODAY by learning the information contained in this ebook: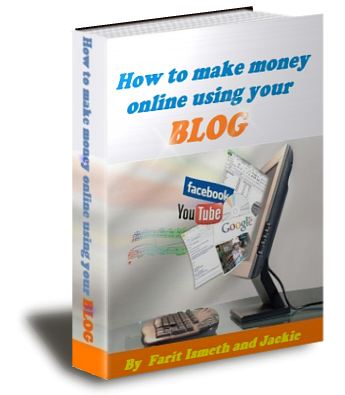 How to Make Money Online using your BLOG!
This ebook contains the most fundamental information that you need to know about how to make money online using your BLOG – so you can get started…FAST!


You'll learn:
Still have some doubts? Don't worry, because we are feeling very generous today and will be giving you a very special offer........
We are taking all the risk and are handing this ebook to you for only RM25.00 FREE today!

We're so sure that you will love "How to make Money Online using your BLOG" eBook that we're offering an Unconditional 100% Money-Back Guarantee this ebook to you for FREE!

You've got absolutely nothing to lose in this. This is a true bonus gift that we are giving to all of you.
Get the information you need to make money using your BLOG!
Order "How to Make Money Online using your BLOG" ebook TODAY!
Here's How to get this ebook:
Simply click on the Join Now button below to take advantage of our special introductory offer and save RM25.00 on your purchase! Pay nothing to start learning how to start your very own Money Making Blog today!

Believe me, you can do this, and you won't regret it for a moment.

Sincerely,
Farit Ismeth and Jackie
Co-authors of "How to make money online using your BLOG" book